Granactive Retinoid 2%
Niacinamide 5%
Potassium Azeloyl Diglycinate
Promote skin cell function and metabolism, restoring pH balance.
Promote barrier function and repair post inflammatory damage.
Improve fine lines as a result of photoaging.
Reduce pigmentation through inhibiting tyrosinase induction.
Reduce inflammation in the skin through cell regulation.
Prevent collagen breakdown.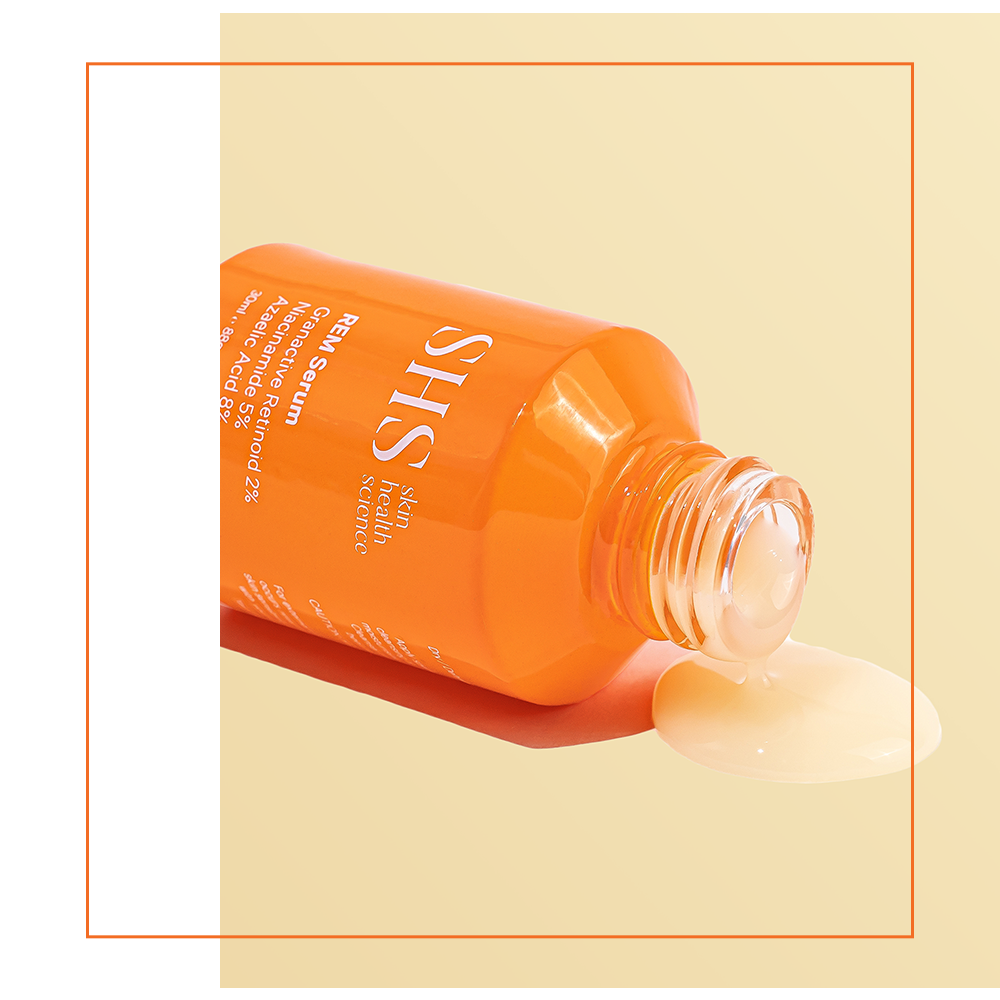 3 Must Have Active Ingredients
Potassium Azeloyl Diglycinate
What is it? Next generation vitamin A which is slow release, reducing the intolerances and skin sensitivities that are experienced with traditional vitamin A forms.
What does it do? Studied extensively for its ability to reduce photodamaged skin and regulate oil production, we love this active for its high degree of efficacy against acne, photodamage correction and providing structure and support for your skin's natural barrier function.
Why add it to your routine? With a high degree of dermatologic homeostasis, utilising vitamin A in your everyday skin care regime, will help promote collagen remodelling. It's fantastic in assisting to regulate sebum control, stabilising excess oil production. It is your skin powerhouse and will help with the overall essential health of skin cell metabolism.
What is it? Niacinamide is a form of Vitamin B3 and a super powerful active ingredient with numerous benefits for all different skin types.
What does it do? Niacinamide is a precursor to cofactors that promote and enhance skin cell metabolism, meaning it provides lots of dermatological health benefits. It helps reduce trans epidermal water loss, improving skin barrier function and hydration. It inhibits tyrosinase, which is the enzyme responsible for hyper-pigmentation as well as reduces sebum production, which can result in less breakouts.
Why add it to your routine? Niacinamide can be a powerful aid in fighting acne, pigmentation, inflammation.
What is it? Also known as Salt of Azelaic Acid, this is a saturated dicarboxylic acid found naturally in grains such as wheat, rye, and barley.
What does it do? PAD helps to regulate sebum production for acne prone skin, supports skin hydration to improve elasticity, may help reduce the appearance of hyper-pigmented spots and provides anti-inflammatory effects that help reduce redness and inflammation.
Why add it to your routine? This is a great ingredient to keep your pores (and therefore your complexion) clean and clear.
Suited to all skin types.
Apply sparingly (pea size) at night only after cleansing to face, neck and décolletage prior to moisturising. For improved results use SHS Vita Cleanser prior to ensure excess oil & dirt has been removed from the skins surface.
CAUTION: Not to be used whilst pregnant or breast feeding. For external use only. Keep out of eyes. If eye contact occurs rinse with cool water & seek medical advice. If skin sensitivity or irritation occurs cease use & consult with your doctor. Keep out of reach of children.
Test patch recommended before use.
Aqua, Aloe Barbadensis Leaf Juice, Potassium Azeloyl Diglycinate, Niacinamide, Polyacrylate Crosspolymer-6, Alpha Hydroxy Acid, Polyglyceryl-4 Laurate/Sebacate, Polyglyceryl-6 Caprylate/Caprate, Dimethyl Isosorbide, Hydroxypinacolone Retinoate, Bisabolol, Panthenol, DMDM Hydantoin, Iodopropynyl Butylcarbamate, Cymbopogon Martinii Motia Oil, Tocopherol, Butylated Hydroxytoluene
Complete Your SHS Routine